I'm baby sitting tonight. Jan is off at a dinner/party at her friend Jane's house and so that leaves Emily and me home alone. At least we've got each other. I wish I could do this more often and let Jan escape every once and a while, but my job has been dominating my life for the past few months. That should hopefully change once 2007 rolls around.
Jan has been so amazing with Emily. They're home together all day everyday. I know that irregular sleep patterns and the occasional bout of cabin fever threaten the very fabric of Jan's sanity, but Emily really has made life easier than it could have been. She's not a picky baby or a sicky baby, she hasn't had any problems feeding or sleeping, and she only cries for a very limited number of reasons – all fairly easily dealt with once diagnosed. We really have been very lucky.
But here I am. We had a great time earlier singing along with my random playlists on the computer. She loves it when I sing to her! (hey, I never said she had taste) Propped up in her car seat beside the computer, Emily giggled and cheered as I sang selected hits from Billy Joel, Guster, and Elton John. She also appreciated my percussion solo to The James Taylor Quartet's rendition of the theme song from Starsky and Hutch.
And then came feeding time. She's still demanding her meals about every three hours, but she could go for as long as six hours or as little as an hour and a half. She likes to keep us on our toes. We've got enough mommy milk in the freezer to feed a small army – if armies drank mommy milk – so Emily and I were set for the night. My favorite part of feeding Emily is how she stares deep in to my eyes while I hold the bottle for her as she calmly gulps away. My second favorite part is burping her afterwards. I sit her on my lap and support her chest with one hand while I pound the gas out of her with the other hand. Sure, the sweet little eruption is fun, but the vacant zombie-like stare that she assumes during the burping procedure is what keeps me coming back: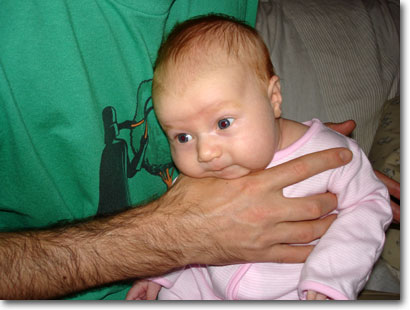 The Burp Look